Shopping the GK61X white Keyboard Case – the perfect accessory for your custom hot-swappable RGB keyboard! This 60% keyboard case is made with high-quality materials to ensure durability and long-lasting use. The Tyce-C wiring allows for easy customization, making this DIY kit a great option for those who want to switch up their keyboard layout or style. The GK61X PCB Plate Case supports both 3-pin and 5-pin switches, giving you flexibility when it comes to choosing your preferred switch type.
The hot-swappable design also allows for easy switch replacement, so you can experiment with different switch types until you find the perfect fit for your typing needs. This keyboard case features stunning RGB lighting that can be customized to your liking, adding an extra touch of personality to your setup. The sleek white design adds a modern, minimalist aesthetic to your desk and pairs perfectly with other accessories. The GK61X White Keyboard Case comes in a compact size that's perfect for on-the-go use. It's also incredibly easy to assemble, making it a great option for beginners or seasoned keyboard enthusiasts alike. Upgrade your typing experience with the GK61X White Keyboard Case today!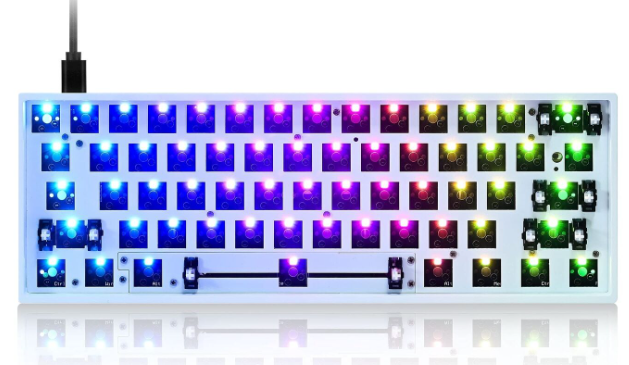 Benefits of Using the GK61X PCB Plate Case 60% Keyboard
– Wide Compatibility: Compatible with Cherry MX RGB switches, Kailh switches and Gateron RGB switches for maximum flexibility and customization.
– Vibrant RGB Backlight: Equipped with over 16.8 million RGB SMD lights, this keyboard case is not just a tool but also a fun toy.
– Fully Programmable: Customize the RGB backlighting and under-lighting to your heart's content, with the ability to set single colors or create custom rainbow wave patterns.
– All-in-One Kit: The GK61X kit includes everything you need to build a custom keyboard, including PCB, mounting plate, black ABS case, stabilizers, and Type-C cable.
– Hot Swappable Switches: With hot-swappable switch sockets, swapping out switches is quick and easy without the need for soldering, making it perfect for DIY enthusiasts.