Features & Pros
The OSU Custom Mini Keypad's design caters to gaming enthusiasts, as it can enhance gameplay by assigning macros to perform complex maneuvers or execute rapid-fire actions. Its responsive keys and ergonomic layout contribute to an improved gaming experience.
-The OSU Custom Mini Keypad is a USB-powered, three-key programmable macro keyboard specifically designed for Photoshop editing and gaming tasks. It features a compact form factor, making it portable and space-saving.
-This keypad utilizes the Human Interface Device (HID) protocol, which ensures compatibility with various operating systems without requiring additional drivers. The mechanical keyboard switches provide satisfying tactile feedback and durability for prolonged use.
-With its programming capability, you can assign custom macros to each of the three keys, allowing for quick and efficient execution of repetitive tasks. This feature is particularly useful in software like Photoshop, where common actions such as copy, paste, and cut can be assigned to individual keys, saving time and effort.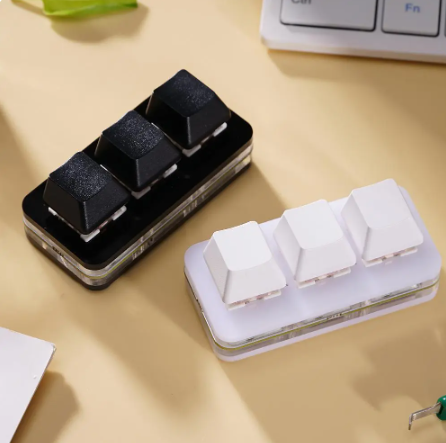 Specifications
-Backlight Type: No Backlight
-Interface Type: USB
-Style: Standard
-Operation Style: Mechanical
-Application: Desktop, Laptop
-Color: Black, White
-Material: Acrylic
Cable: 1.5m type-c data cable