Features & Pros
The GMMK Pro 75% Hot-swappable Keyboard Kit stands out with its hot-swappable sockets, CNC aluminum alloy construction, customizable RGB lighting, and DIY-friendly nature. It offers a versatile foundation for enthusiasts to create their ideal mechanical keyboard without the need for soldering or extensive technical expertise.
-The GMMK Pro 75% Hot-swappable Keyboard Kit is a customizable and DIY-friendly mechanical keyboard kit. It features a compact 75% layout and utilizes hot-swappable sockets, allowing you to easily swap out switches without soldering, making customization hassle-free.
-The keyboard kit is constructed from CNC aluminum alloy, which provides a solid and durable chassis for the keyboard. This ensures longevity and stability during use, making it a reliable option for both typing and gaming.
-RGB customization is a prominent feature of the GMMK Pro. It offers customizable RGB lighting effects, allowing you to personalize the keyboard's appearance to match your style and preferences. The per-key RGB backlighting enhances the visual appeal and allows for easier key identification in darker environments.
-With its barebones nature, the GMMK Pro provides a blank canvas for customization. You have the freedom to choose and install your preferred switches, keycaps, and stabilizers to curate a typing experience tailored to your liking. This flexibility makes the GMMK Pro suitable for enthusiasts and those who enjoy a more hands-on approach to keyboard customization.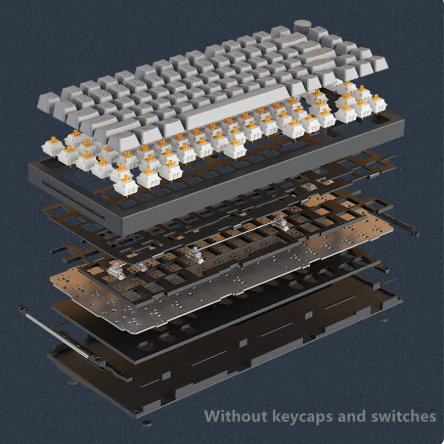 Specifications
-Compact, Tenkeyless Configuration
-83 Keys (including Clickable Rotary Encoder)
-16.8 Million Per-key Rgb
-Fully Customizable
-South-facing Leds
-Multiple Color Modes And Animations