Welcome to shop for the GH60 anodizing aluminum CNC Case, the perfect case for your 60% mechanical gaming keyboard! Made with high-quality anodized aluminum and precision-cut with CNC technology, this case is guaranteed to provide superior protection for your keyboard while also adding a sleek and modern touch to your setup. Designed specifically for compatibility with Poker2, Pok3r, and Faceu 60 keyboards, this case features ALU feet for added stability during use. The durable construction of this case ensures that it will withstand even the most intense gaming sessions without compromising on quality or style. Available in a variety of colors to match your personal aesthetic, this keyboard case is a must-have for any serious gamer or tech enthusiast. Whether you're looking for a reliable way to protect your keyboard or simply want to upgrade your setup, the GH60 Anodizing Aluminum CNC Case is the perfect choice. Order now and experience the ultimate in style, protection, and functionality for your gaming keyboard. Each package includes one GH60 Anodizing Aluminum CNC Case. Don't settle for anything less than the best!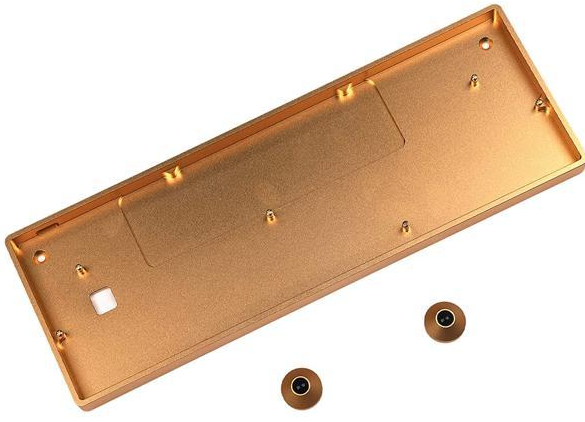 About the Item
– Durable Aluminum Case: Made with high-quality anodized aluminum for lasting protection and a sleek look.
– Precision CNC Design: Customizable case designed with precision CNC machining for a perfect fit.
– Compatible with Multiple Keyboards: Designed to fit 60% mechanical gaming keyboards, including Poker2, Pok3r, and Faceu 60.
– ALU Feet for Added Stability: Features ALU feet for added stability during intense gaming sessions.
– Easy to Install: Comes with all necessary screws and tools for easy installation.
Why Choose GH60 CNC Case for 60% Mechanical Gaming Keyboard from CNCJY?
– High-quality products: We ensure that their product inventory consists of only high-quality GH60 Anodizing Aluminum CNC Case. This aluminum case has a smooth finish, well-constructed making it suitable to accommodate all the components of a custom keyboard.
– Competitive prices: We offer competitive pricing for the GH60 Anodizing Aluminum CNC Case. These deals coupled with bulk purchase offers, cash backs, and discounts make it easier for buyers to save on the total costs of purchasing the product.
– Fast Delivery: We focus on providing fast delivery options and try to ensure that the orders reach buyers as fast as possible. Such services can help save valuable time.
– Wider Selection: We offer buyers a more extensive selection of GH60 Anodizing Aluminum CNC cases compared to brick and mortar stores. Various colors, blue, red, white, green, or customized offered.
– Excellent Customer Support: We offer excellent customer support through various channels such as phone lines, chatbots, instant messaging, and email to provide quick and efficient solutions to any issues the customers may face.