Description
The Walnut Wood Keycap OEM Profile for Mechanical Keyboard is a set of keycaps crafted from walnut wood. With their OEM profile, compatibility with MX switches, and inclusion of keycaps for different rows and essential gaming keys, these keycaps offer both visual appeal and a comfortable typing experience for mechanical keyboard enthusiasts.
-The Walnut Wood Keycap OEM Profile is a set of custom keycaps designed for mechanical keyboards. Handcrafted from walnut wood, these keycaps offer a unique and natural aesthetic that adds a touch of elegance to your keyboard setup.
-The keycaps are designed in the OEM profile, which is a popular and widely used keycap profile known for its comfortable and ergonomic shape. This profile provides a comfortable typing experience and is compatible with most standard mechanical keyboards.
-The set includes keycaps for various rows: R4, R3, R2, and R1. These different rows correspond to the different rows of keys on a keyboard, ensuring that the keycaps fit perfectly and align with the standard keyboard layout.
-The Walnut Wood Keycap set includes keycaps specifically for the WASD arrow keys, which are commonly used in gaming. These keycaps offer a visual and tactile distinction, making it easier to locate and navigate these essential gaming keys.
-The 6.25u Space bar cap is also included in the set. This keycap size is standard for most mechanical keyboards and ensures compatibility with a wide range of keyboard layouts.
-The keycaps are designed to fit MX-style switches, which are one of the most popular switch types used in mechanical keyboards. This compatibility ensures that the keycaps can be easily installed and securely attached to the switches.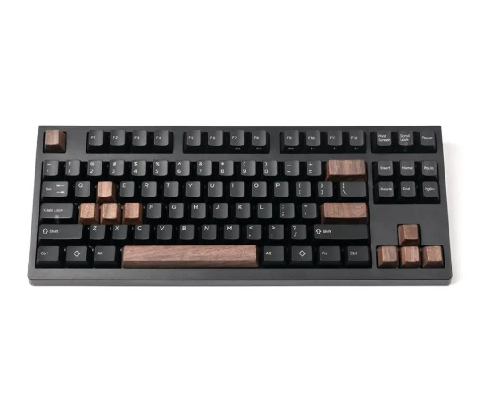 Specs
-Style: Standard, Bamboo, Keyboard, Mini
-Keyboard Standard: 104Keys
-Application: Desktop, Laptop, Number
-Type: Wired
Shift Keycaps: R4, R3, R2, R1 Keycap
DSA Keycaps SA Keycaps: abs pbt keycap 60% 80% 100% set