Description & Specs
The Customized White Full Height GH60 CNC A60 Anodized Sandblasting Mechanical Game Keyboard offers a combination of style, functionality, and durability. Its customizable features, compatibility with different key switches, and high-quality construction make it an excellent choice for both gaming enthusiasts and typists alike.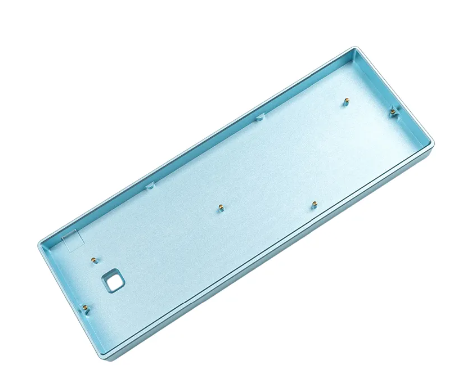 The Customized White Full Height GH60 CNC A60 Anodized Sandblasting Mechanical Game Keyboard is a premium mechanical keyboard designed for gaming enthusiasts and typists seeking a high-quality and personalized typing experience. Here are some additional details about this keyboard:
-Design: The keyboard features a full-height layout, meaning it has all standard keycaps and functions. It is designed with a sleek white color scheme, giving it a clean and modern appearance. The CNC A60 anodized sandblasting finish adds both a durable surface and an attractive matte texture to the keyboard.
-Switch Compatibility: The GH60 PCB (Printed Circuit Board) that is used in this keyboard is compatible with a variety of mechanical key switches such as Cherry MX, Gateron, Kailh, and other similar switch types. This allows users to choose their preferred switch based on personal preference for typing feel and sound.
-Customizability: The GH60 PCB used in this keyboard is well-known for its programmability and support for aftermarket keycap sets. Users can easily customize key assignments, macros, and lighting effects by utilizing the keyboard's software or firmware programming tools. The standard keycap layout also allows for seamless keycap replacement if desired.
-Durability: The anodized sandblasting finish not only provides an appealing aesthetic but also enhances durability by protecting the keyboard's surface from scratches and wear. The CNC machining process ensures precise construction and a solid build, contributing to the overall longevity of the keyboard.
-Game-specific Features: While the keyboard can be used for any purpose, it is particularly suitable for gaming due to its high-quality build, customizable key assignments, and compatibility with various gaming software. Additionally, the keyboard can support customizable RGB lighting effects and features such as anti-ghosting and n-key rollover for optimal gaming performance.