Features & Pros
The CIDOO V21 PRO Pad offers a premium typing experience with its durable aluminum CNC body, versatile connectivity options, gasket mount construction, and customizable RGB backlighting. Its combination of advanced features and aesthetic design makes it an excellent choice for keyboard enthusiasts and those looking for a high-performance mechanical keyboard.
-The CIDOO V21 PRO Pad is a premium mechanical keyboard that boasts a high-quality build and a range of advanced features. Its body is crafted from durable aluminum using Computer Numerical Control (CNC) machining, ensuring a sturdy and elegant design.
-This keyboard offers versatile connectivity options. It can be used via Bluetooth or a 2.4G wireless connection, making it wireless and convenient for different setups. Alternatively, you can opt for a wired connection for a more stable and low-latency experience.
-The keyboard features a gasket mount construction, which enhances the typing feel and reduces vibrations, resulting in a more comfortable and pleasant typing experience. This design also improves keyboard durability by better-absorbing shocks and impacts.
-The CIDOO V21 PRO Pad includes customizable RGB lighting with south-facing LEDs. This means that the light shines towards the user, making the key legends more visible and enhancing the overall visual appeal. With support for VIA, a popular keyboard configuration software, you can easily customize and personalize the backlighting effects, key assignments, and other settings to suit your preferences.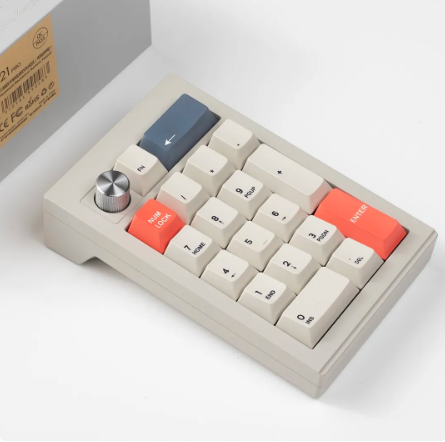 Specifications
-Style: Standard
-Interface Type: USB
-Operation Style: Mechanical
Keyboard Standard: 19 Keys
Application: Number Type: Bluetooth Wireless