With the continuous advancement of technology and the increasing demand for personalized products, the keyboard, as one of the important ways of human-computer interaction, is also constantly evolving and innovating. In this space, the best new CNC-machined aluminum keyboard of 2023 is undoubtedly the OnePlus Keyboard 81 Pro.
First off, the OnePlus Keyboard 81 Pro looks and feels amazing. It features a durable aluminum alloy casing that is precision CNC machined for exquisite craftsmanship and a high-end feel. The keycaps are made of high-quality PBT material, which provides a comfortable touch and long-lasting durability. The overall design is simple and elegant, equipped with a backlight effect, which makes the keyboard more outstanding in a dark environment.
Second, the OnePlus Keyboard 81 Pro offers flexible connectivity and customization options. It supports wired and wireless connections, and users can choose the connection method according to their preferences. In addition, the keyboard also provides a wealth of customization options, which can be personalized through software, including key assignment, macro settings, backlight effects, etc. This allows users to adjust the functionality and appearance of the keyboard according to their needs and preferences.
It is worth mentioning that OnePlus Keyboard 81 Pro supports customization using QMK/VIA to make the keyboard more personalized. QMK is an open-source keyboard firmware that allows users to customize key mappings and functions. With QMK, users can create their own unique layouts and functions for a truly personalized keyboard experience. And VIA is a graphical keyboard configuration tool, which makes keyboard settings easier and more intuitive. These two options give users more freedom and creativity.
As for pricing and availability, it starts at $219 with the Winter Bonfire switch. The Summer Breeze switch costs a whopping $239. The price of the OnePlus Keyboard 81 Pro is relatively reasonable. Although it belongs to the high-end keyboard, the price is more competitive compared with other similar products. In addition, as a well-known brand, OnePlus usually has a relatively stable supply of products, and users can buy this keyboard relatively easily.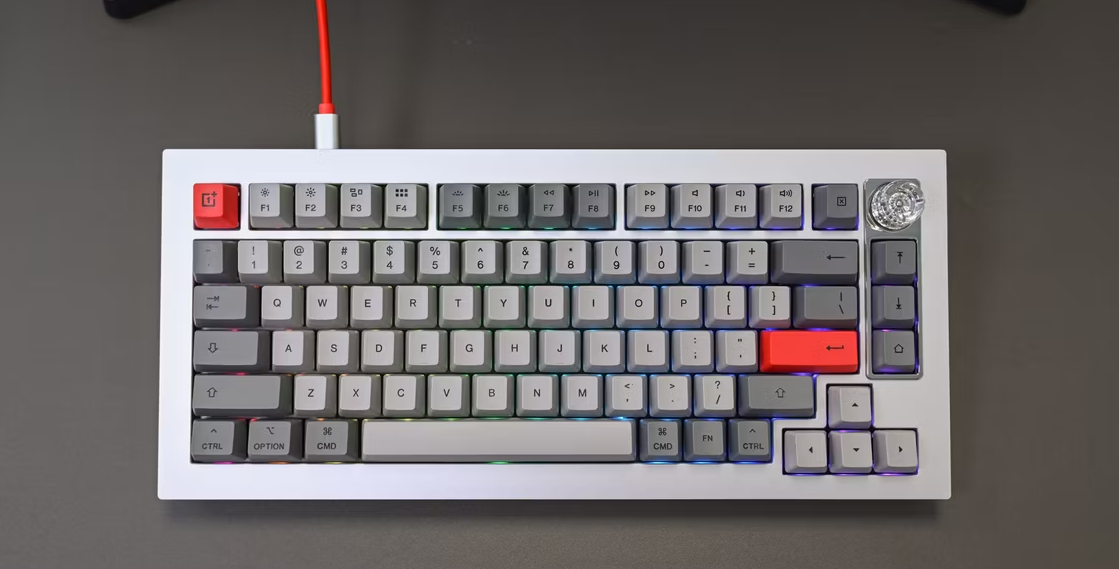 Compared to keyboards from other brands, the OnePlus Keyboard 81 Pro is different in several ways.
Here is a data table with some differences between Keyboard 81 Pro and Keychron keyboards:
| | | |
| --- | --- | --- |
| The Difference | Keyboard 81 Pro | Keychron |
| Keyboard Type | Mechanical keyboard (specific type optional) | Mechanical keyboard (specific type optional) |
| Appearance Design | Simple and elegant, aluminum alloy shell, CNC processing | Various styles and materials are available, such as plastic or aluminum alloy |
| Connection Method | Wired and wireless connectivity options | Wired and wireless connectivity options |
| Customization Options | QMK/VIA support | Some models support |
| Backlight Function | Backlight Effect | Some models support |
| Price Range | Relatively Reasonable | Varies by model and options |
| Brand Awareness | OnePlus | Keychron |
All that said, there are many reasons to buy the OnePlus Keyboard 81 Pro. It not only has a beautiful appearance and a comfortable feel, but also provides flexible connection and customization options, and supports QMK/VIA for personalization. Reasonable prices and steady availability also add to its appeal. Compared with other brands of keyboards, the OnePlus Keyboard 81 Pro has obvious advantages in design, customization, and brand value. Whether you are a professional or a keyboard lover, choosing the OnePlus Keyboard 81 Pro will be a wise decision.