Boutique custom builders, internet forums with tiny, localized group buys, and new technologies from a handful that dared to break the mold have increased the number of mechanical keyboards and brands. Mechanical keyboards are now bought by office professionals who want the finest typing experience during the workday, not just gamers. Keyboard aficionados, who spend hundreds of dollars customizing their mechanical keyboards for sound, feel, and appearance, increased due to the pandemic and work-from-home arrangements. Using anything for eight hours a day should be fun. Mechanical keyboards cost more than membrane ones in prebuilt PCs until recently. Performance and cost-effective mechanical keyboards have closed the gap. Switches and other customisation have increased in the premium market. We've watched market makers and the old guard.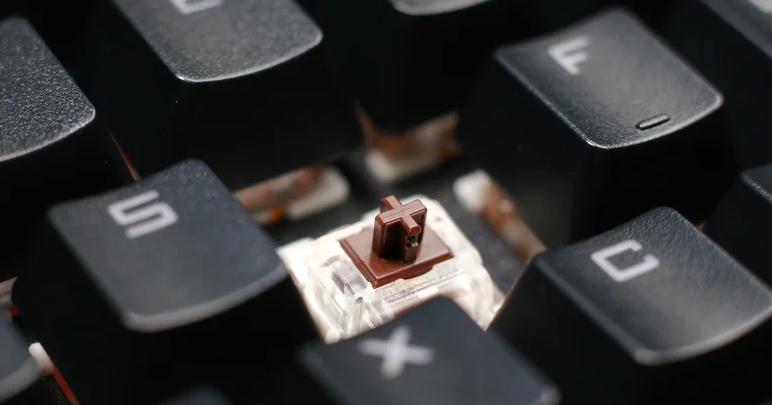 2023 Best 6 Mechanical Keyboard
Wooting
Wooting makes intriguing mechanical keyboards. Its keyboards have full analog control on every key, making them unique. Imagine having a controller joystick axis on every switch, allowing analog game controls or any other mapping in the keyboard's software utility. Wooting One, a 2016 Kickstarter, used Flaretech light-actuated switches and analog control throughout the whole switch travel. In 2018, the 104-key Wooting Two used laser-actuated switches again. The small team designed the Lekker custom switches to improve. Hall Effect and magnets detect analog input in this switch. These switches are for keyboard enthusiasts to customize. Wooting used Cherry MX-compatible housings, springs, and stems. Accurately sensed switches allow analog movement in games, customizable actuation points at any point in the switch's travel, and multiple key actions at different keystroke points. According to BadSeed Tech and Optimum Tech, the $174.99 Wooting 60HE is one of the best gaming keyboards on the market. They fit many 60% custom keyboard shells.
ZSA
The $245 40% ortholinear Planck EZ and $365 Moonlander Mark I are two of ZSA's most sturdy, adaptable, and sustainably built mechanical keyboards. Software configures and downloads their keyboards. The organization includes a live training tool with user-driven feedback for learning the new layout. Power users want the best construction, customizability, and ergonomics. In today's disposable society, ZSA's keyboards are durable and repairable. Key switches have hot-swap sockets, so replacing one is easy. A two-year warranty is rare in peripherals. The keyboards run on QMK firmware, which can be customized on GitHub, and all cords are removable. With overtime, perks, paid holidays, and office work, the enterprise is sustainable. ZSA is worth checking out if you care about the who, where, and why of your devices.
Angry Miao
Angry Miao's cyberpunk mechanical keyboards aren't for everyone. Still, arthouse anything is for niche customers, and the weird, bespoke keyboard business is more than you think. Angry Miao has raised almost $100 million from VCs, according to Yahoo! Finance. Hypebeast presale rounds sell limited-release, highly advertised products many times a year. The $1,600 split ergo AM Hatsu is inspired by HBO's "Westworld" opening credits. The wireless, sculpted halves, made with a difficult five-axis CNC technique, include incorporated wireless charging for AM's Cybermat, which has 12 Qi charging coils to power the keyboard, phones, and Logitech Powerplay compliant mouse. The Cybertruck-inspired Cyberboard has a 75% form factor and a customisable LED lighting panel for $670 before they sell out. The $402 AM Small Touch keyboard boasts an HHKB layout, configurable leaf springs for a bouncy typing feel, and a thumb-centered touchpad for arrow keys or media controls. The $328 "Horizon: Zero Dawn"-inspired Cyberblade earbuds have a low 36ms wireless latency for gaming.
Keychron
HK-based Keychron is known for affordable, well-designed keyboards in almost any size or layout. The company publishes new designs throughout the year, so if your favorite format doesn't available, it may soon. Mechanical keyboards with plastic cases and wired but detachable USB-C cables start at $49. The brand offers 94 keyboards, several with CNC-machined aluminum shells and wireless connectivity or hot-swap switch connectors. Many have premium features like sound-dampening foam between case components, rubber gaskets for a softer typing feel, and programmable rotary encoders to control media or creative tools. The OnePlus Keyboard 81 Pro was developed in partnership with the company, which is also an OEM. Keychron keyboards support QMK and VIA, the two main open-source customization software packages used by keyboard hobbyists to remap their layouts.
Geon Works
Group buys mean you pay and wait months for custom mechanical keyboards. As a side business, Geon sells high-quality keyboards to the community. His company is unusually transparent in business, let alone online. He publishes manufacturing costs, profit margins, and manufacturing issues. Some of his designs are still group buys, but most are now in-stock buys in various quality levels and prices. The most popular kit, the Frog TKL, costs up to $295 with DHL shipping from South Korea. For an unforgettable typing experience in raw aluminum finish, watch for the regular drops of his F1-8X TKL format custom boards or the W1-AT (pictured), which shifts the F-row to a double column on the left side of the alphas for a slimmer keyboard while retaining the number pad. His gasket-like mount mechanism uses Tadpoles, small rubber tadpole-shaped bumpons, to add flex to typing. Negatives? Korean shipping is expensive.
Mode Designs
This boutique custom keyboard builder has more bangers than South Central LA and some of the most sought-after designs at an unbeatable price. Mode Design sells three customizable keyboards. Its high-end bespoke keyboards from Massachusetts have captivated mechanical keyboard enthusiasts. The Eighty and SixtyFive had simple designs and quality typing sounds. The 65% Envoy, which starts at $189 for the base kit, includes a unique block mounting mechanism for flex or firmness, and hundreds of materials for the body, weight, accent, plate, and PCB. The 75% Sonnet, which costs $309, offers hundreds of customizable combinations. An extensive website customization tool generates a custom code to return to that configuration later. These kits lack switches and keycaps because enthusiasts usually buy them individually.
2023 Worst 6 Mechanical Keyboard
Glorious
Glorious Gaming has rebranded since its meme-worthy PC gaming race days. The once-plucky upstart still sells mechanical keyboards with fully-hot-swap sockets for half the price of the big-name brands in the GMMK 1, which comes in full-size, TKL, and 60% sizes for $109.95. After Finalmouse's success, they entered the ultralight mouse market. The Glorious Model O, O-, Model D, and D- were wired and wireless gaming mice that were affordable, light, and high-quality. The first Model O mice had a packaging issue that damaged some cords. To fix the issue, Glorious sent affected users custom-sleeved cables in various colors. Holy Panda followed. Holy Pandas are frankenswitches made from Halo True stems and Invyr Panda housings. Drop sells Halo True stem tooling. Wonderful bought housing tooling. Who owns the Holy Panda name? Two sellers held half. Despite only holding partial product rights, Glorious tried to trademark the moniker. Glorious changed its switch name and withdrew the trademark application after community outrage. Glorious now sells the $349.99 GMMK Pro and $129.99 GMMK Numpad, high-end keyboards.
Razer
Razer helped revive mechanical keyboards in the last decade. Gamers and creative professions use its mechanical switch keyboards. The Razer triple-snake logo is prominent in esports, live streaming, and large box technology stores. The company has helped the community, but its keyboards are for gaming, not work. Razer makes gaming keyboards. However, Razer mechanical keyboards don't meet the keyboard community's rising typing standards, and not everyone wants numerous keyboards on their desk. Razer's stabilizers replace Cherry's on longer keys like the spacebar and modifiers. This design vibrates more. Razor switches are rougher than others. Until 2020, the corporation used a non-standard bottom row. Even metal-top Razer keyboards have plastic covers. Unless Razer lowers its Pricing, avoid full-aluminum mechanical keyboards.
Drop
Drop has a long enthusiast history. Massdrop was launched in 2012 to centralize group buys for mechanical keyboard hobbyists, audiophiles, and everyday carry enthusiasts. It was community-driven with polls, discussions, and a lively forum. With its high-volume orders, the site would negotiate deep discounts with manufacturers for popular items. It was revolutionary, turning the community into commerce. Drop rebranded in 2019, dropping many enthusiast communities and item categories. The site now sells only mechanical keyboards and audiophile products, with a preference for its own self-branded devices or those co-branded Drop x with another company, like the popular Sennheiser collaborations. The mechanical keyboard section is now mostly Drop-branded keyboards like the $349 SENSE75. The company still offers group buys as preorders for its products and a few partners. The company's poor customer service, documented on Trustpilot and Drop's forums, is the main reason to avoid it. The products are good but overpriced.
Vortex
Vortex ignored the mechanical keyboard community's distaste for keycap copycats. Low-cost, high-quality mechanical keyboards like the Cypher helped the firm carve out a niche. Cherry MX switches, a condensed 65% layout with specialized arrow keys, a split spacebar option, and a removable cable with USB-C whereas other brands used micro USB. The Pok3r was very popular, having ANSI and ISO layouts for European mechanical keyboard hobbyists. The company later issued several GMK Carbon-cloned keycaps. The community was already opposing other brands duplicating Olivia hues. The company stopped selling clones and partnered with MiTo, a popular keyboard designer.
Corsair
Corsair, one of the largest gaming peripheral companies, makes mechanical keyboards with metal faceplates, open designs to show the mechanical switches and let the RGB glow wash over everything, macro keys, deep software customizability, and mostly Cherry MX switches, with a few models using Corsair's own OPX optical-mechanical switches. They're fairly well-built, although every keyboard's bottom housing is injection-molded plastic. The K100 RGB, the most expensive wired mechanical keyboard, costs a whopping $249.99. No gaming keyboard worth that much should lack hot-swap connections, a CNC aluminum shell, or a normally-spaced bottom row for user-installed key caps. Since most keycap sets have 6.25u or 7u spacebars, the 6.5u spacebar is ineffective. The open architecture means you better like the sound of your mechanical key switches, and everyone in the house will have to adjust as the sound carries wonderfully. Unless you need the RGB glow and lighting sync with other iCUE devices, there are cheaper typing solutions with better feel and sound.
Logitech
Logitech was founded in 1981 in Lausanne, Switzerland, before moving to Silicon Valley. It pioneered wireless infrared and laser sensor mice and sells almost any PC peripheral. Productivity was branded Logitech and gaming was Logitech G. Most of its keyboards lack mechanical switches. The productivity range has five mechanical switches, one Cherry MX switch, and no hot-swap sockets. Logitech charges more in a market with many budget brands, possibly relying on its name recognition. 15 Logitech G gaming keyboards have mechanical key switches, but only the $149.99 Pro X, released in 2019, has hot-swap sockets. None of its mechanical keyboards are CNC aluminum. Its budget keyboards are fine, but the company seems to put more creative effort into its non-mechanical keyboards.